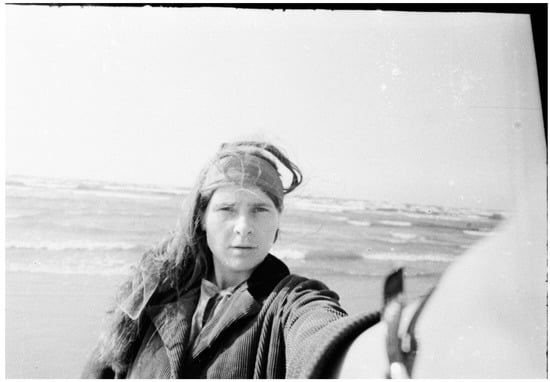 Intimacy and Darkness: Feminist Sensibility in (Post)socialist Art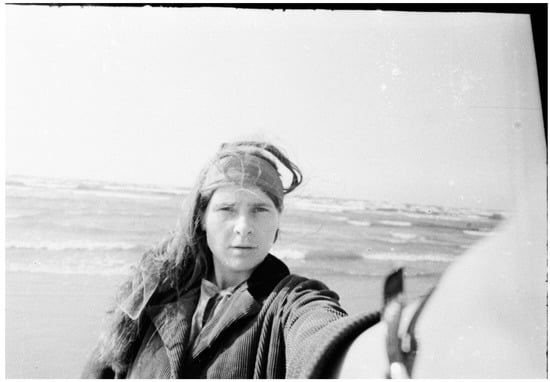 1. The Uncanny Close Other
2. The Islands of Interest in Feminism
Tīfetāle's text itself can be identified as a "para-feminist" reading of ZDZ's work attempting to inscribe Zenta Dzividzinska in the feminist art tradition. Interpretating ZDZ's work as standing "side by side" or "further than" that tradition, Tīfetāle pushes its boundaries and offers a new kind of temporal and embodied relationality. This is how a postsocialist "para-feminist" sensibility can be located side by side with other earlier and more elaborated feminist traditions in the West, while encouraging critiques of spatial and temporal models that have shaped dominant feminist narratives and maintain their main axes. It is worth noting that this "para-feminist" approach to rethinking and recontextualizing ZDZ's work was carried out in 2021 through a performative exhibition curated by Zane Onckule I Don't Remember a Thing: Entering the Elusive Estate of ZDZ (Latvia: Kim? Contemporary Art Center, 2021). The exhibition brought ZDZ's only partially known photographic legacy side by side with an artist Sophie Thun and an archivist Līga Goldberga, intimately materializing a temporal and embodied kinship for tracing the hidden and unknown continuity of generations of women artists and researchers.
3. Visceral Aesthetics: Getting under One's Skin
While the feminist designations discussed initially referred to an individual artistic or research position, and their authors used them rather as adjectives or epithets, they also present a critical vocabulary whose political potential I have tried to reveal. The orientation of these feminisms towards a productive opacity, critiques of established geopolitical patterns of visibility, as well as an investment in one's personal experience and everyday life, advance the categories of how to understand feminisms with intimacy and darkness as their central motives. A closer look at them may provide additional points of reference, enabling a more solid framing of "feminisms of their own", as a means to mirror the invisibility, opacity, and discursive elusiveness of feminist insights and sensibilities in Central and Eastern European art, as well as provide new theoretical tools to reflect upon their marginal, fragmented, and inconsistent condition. Since intimacy may be facilitated by darkness, I will start with the last concept.
One way to prevent any simplistic transparency about postsocialist feminism is to focus on local and often culturally peripheral phenomena and processes, acknowledging the complexity and internal contradictions. In the context of postsocialist feminism, this means building a feminist genealogy grounded in regional history, including a rethinking of the legacy of socialism. Opacity is a strategy that allows for the preservation of creativity, as well as for the possibility of surprise and the formation of new relationships. It helps to avoid integration in hierarchical relationships or dominant narratives, and views, based on stereotypical generalizations and clichéd designations. In this sense, being incomprehensible, unknowable, and invisible, is already a political position.
The traces of "other feminisms" scattered in the art history and theory of the region should not be considered as seemingly insignificant formations coming from a marginalized territory, nor as local variants of "true" feminism (which do not require clarification), but as a critical potentiality for re-evaluating the geographies of the center and periphery, the temporalities of "before" and "after", and the binary hierarchies of original and copy. They present a critical vocabulary that encourages questioning the "geographically neutral" standard of feminism, reinforcing horizontal, non-hierarchical, and margin-oriented methods in feminist art history, reviewing the understanding of feminist art as a linear progression towards ever-increasing progress, as well as expanding transnational geographies and temporalities of feminist art and art theory and ramifying transnational feminist debates.
These "islands of feminist interest" can be perceived as a rhizomatic structure whose aspects of proximity and distance, familiarity, and strangeness are not absolute, but flexible. It remains open to the experience of the uncanny and the encounter with the Close Other that arranges feminist art from different regions and periods in a new kinship that is often intimate and dark. These arrangements use strategically traditional features of femininity (such as emotionality, softness, relationality, corporeality, and intuition) to explore their critical aspects, as well as advance aesthetic categories indicating failure, opacity, inefficiency, uneventfulness, vulnerability, weakness, and viscerality, derived from unofficial everyday experiences and intimate encounters.
Feminist sensibilities of postsocialism enhance visceral aesthetics by focusing on a complex set of relationships that exist between ideology and corporeality, intuitive embodied experiences, and political sensibilities. While pronouncing the relationship of postsocialist feminism to contemporary feminist movements, they underscore the difference and ambiguous otherness which is at the same time close and uncanny, similar and not similar enough. These theoretical movements offer a novel perspective to rethink feminism in a postsocialist condition, e.g., they can suggest a solution to the problem of how to speak about feminism in late socialist and postsocialist art and how to negotiate the public denial or confusion about feminism in the arts of this period. Bringing these "islands of feminist interest" together into a whole, one can discover, not the home or the holy origin, but perhaps a trail where the dutiful daughters of postsocialist feminism might meet or re-imagine their mothers.