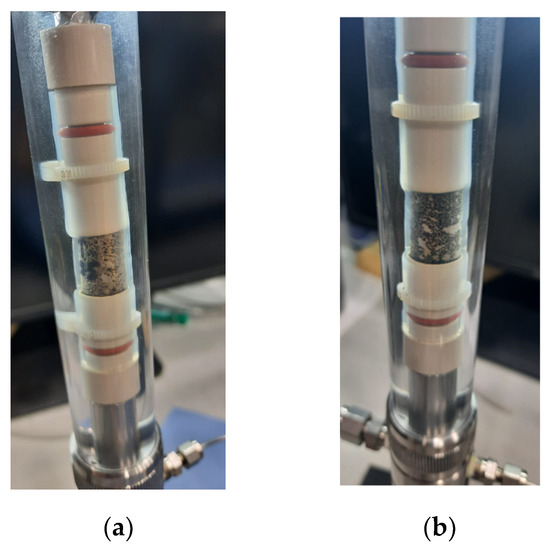 Pore-Scale Investigation of Low-Salinity Nanofluids on Wetting Properties of Oil Carbonate Reservoir Rocks Studied by X-ray Micro-Tomography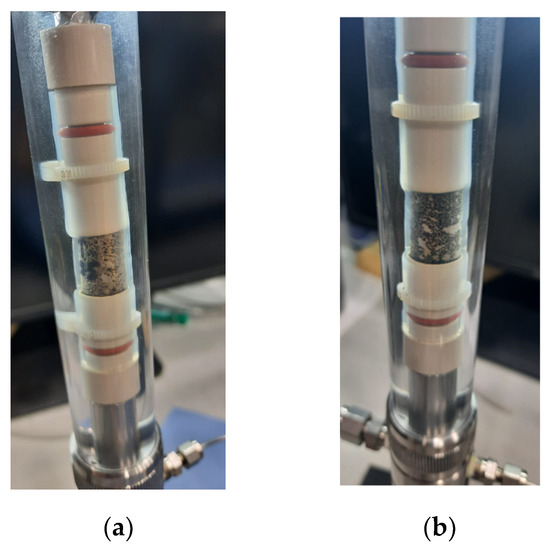 3.1. Effect of Nanoparticles and Different Surfactants on the IFT of Water–Oil System
The IFT reduction between oil and brine is one of the main mechanisms of surfactant flooding. Low IFT values help to improve oil recovery due to the increased capillary number. Therefore, it is important to study the ability of surfactants to reduce IFT at harsh reservoir conditions and to choose an optimal concentration, at which the minimum IFT can be achieved.
Afterwards, 0.1 wt.% AOS in LSW with different nanoparticle concentrations were tested for thermal stability at 70 °C (reservoir temperature) for at least 14 days. Thermal stability results showed that dispersions with only 0.005 wt.% and 0.01 wt.% SiO2 were the most stable among others (no precipitation occurred). Therefore, for further core-flooding and μCT experiments, AOS surfactant was chosen with a concentration of 0.1 wt.% in a mixture with 0.005 wt.% SiO2 nanoparticles in LSW.
3.2. Investigation of the Effect of Different Fluids on Wettability Using X-ray Micro-Tomography
Furthermore, it can be concluded that LSW had an insignificant influence on the wettability of carbonate rock, which still exhibited strong hydrophobic properties after LSW flooding. This can be attributed to the fact that the ionic strength of LSW was not suitable in this case to expand the electrical double layer, and thus to increase the electrostatic repulsion between charged polar oil components and the surface, which in turn could facilitate the detachment process of oil.
However, after the addition of 0.1 wt.% AOS to LSW, the effect became more pronounced, resulting in a contact angle reduction of up to 79°. Moreover, the inclusion of only 0.005 wt.% SiO2 to surfactant solution with LSW further decreased the contact angle of carbonate surface to 49°, indicating that nanoparticles can aid in the wettability alteration towards a more hydrophilic state. This observation illustrates that if the type and concentrations of chemicals are accurately selected, it is possible to achieve a positive synergizing effect.
It should be pointed out that the application of nanoparticles in chemical EOR can be limited by nanoparticle precipitation, which in turn reduces the stability of the dispersion. This can result in pore blockage during flooding and thus lead to formation damage. In order to avoid this, the optimal concentration of nanoparticles in surfactant dispersion at which the solution will be stable under reservoir conditions should be determined.