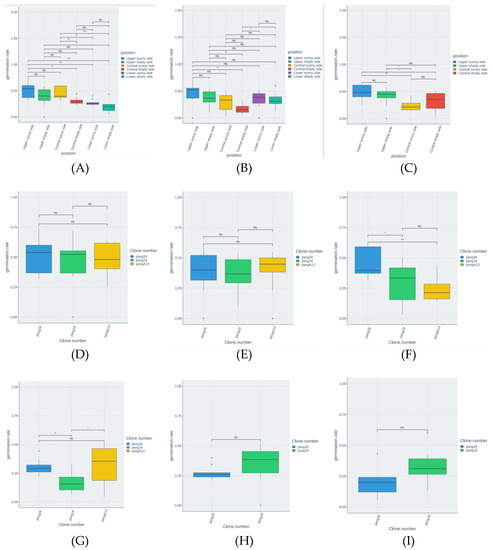 Seed Distribution and Phenotypic Variation in Different Layers of a Cunninghamia Lanceolata Seed Orchard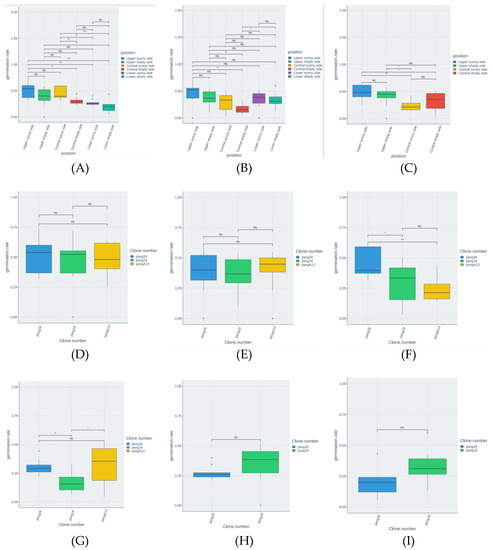 1. Introduction
To date, little is known about the effect of seed setting characteristics from different crown layers on the seed yield after tree dwarfing and pruning. In this study, we evaluated seed yield and seed quality of Chinese fir from different layers of the crown using modern phenotypic analysis methods. We selected three Chinese fir clones with different seed setting characteristics to study seed quality, germination rate, and phenotypic characteristics at different crown layers. Our results provide a reference for the selection of clones from dwarf Chinese fir seed orchards as well as a theoretical basis and technical reference for the construction and management of a new generation of seed orchards.
2. Materials and Methods
3. Results
5. Conclusions
In summary, we found that the clones with different seed-bearing characteristics in the lower crown layer had a great impact on the yield and quality of the Chinese fir seed orchard. When establishing a dwarfing Chinese fir seed orchard, the cone situation of different crown layers of different clones must be considered. Clones with more cones in the lower layer should be selected, and indicators such as seed yield, number of good seeds, number of seeds filled with tannin-like substance, and empty seeds as well as high seed weight and seed width should be used in the selection process. When building seed orchards, a good ecological environment with suitable sunshine and fertile soil is needed. Managers should pay attention to the development of each clone, regulate its vegetative and reproductive growth, and conduct artificial pollination to reduce the formation of empty seeds. If necessary, tree thinning, fruit thinning, fertilizer application, hormone application, and other measures should be taken to ensure that cones and seeds have sufficient nutritional conditions, which will improve the yield and quality of seeds.